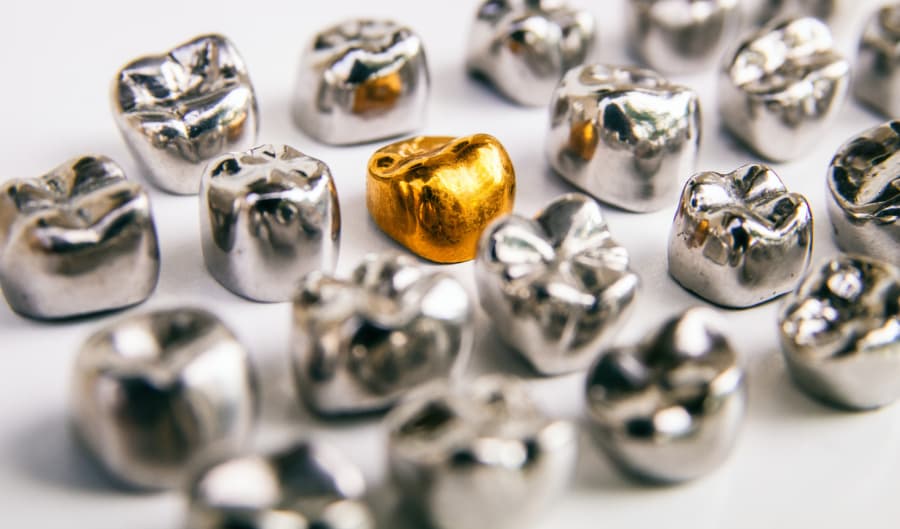 Gold dental crowns have been used as a tool to repair tooth damage for a long time in the dentistry profession. The many applications and positive properties of gold crowns are why they have remained in use for so long. Find out why Red Bank Smiles utilizes this technique and how it can improve your smile.
High Noble Crowns
Gold is obviously a valuable substance, so combining it with other metals to create a gold alloy is a common way to achieve even more benefits, including increasing the strength and reducing cost. Metals often used in these alloys include nickel, palladium, and chromium. There are different levels of alloys that depend on how much gold is included in the compound. To provide patients with the highest level of quality possible, Dr. Klayman uses only high noble crowns. This alloy must include at least 60 percent of a high noble alloy, which includes gold, platinum, and palladium. When a combination of high noble alloys is used, the mixture must include at least 40 percent gold. This high level of gold in the alloy means your crowns will be sure to last a long time.
What is a Dental Crown?
Dental crowns can be used to reshape the structure of a tooth. Depending on the extent of the damage, crowns can be installed to cover only part of the top of a tooth or go all the way down to the gum line. Common causes of tooth damage that may require a dental crown include:
Breakage: Crowns can be used to fill in the normal shape of your tooth in the event of chips or breaks.
Tooth Decay: The erosion of enamel is a common occurrence that can cause tooth pain.
Root Canal: After drilling into a tooth to remove decay inside, crowns are used to seal off the hole created during the procedure.
Large Filling: Dental crowns are utilized to top off the holes created by fillings for a completely restored tooth shape.
Besides being used as a fitted cap to complete the shape of a damaged tooth, dental crowns are also used to hold dentures or bridges in place and clean up the look of a discolored filling. With the versatile use of dental crowns, they are a very common procedure.
Why Use Gold?
Gold possesses several attributes that make it extremely useful as a material for crowns. The metal is very durable and resistant to chips or breaks, delivering long-lasting use without worry. In addition, gold does not wear down easily, allowing it to stand up to chewing. For people who grind their teeth or have a heavy bite, a gold dental crown limits the amount of wear caused to the tooth it is aligned opposite of in your mouth. With a gold dental crown, you can count on a long-term solution to any tooth damage.
However, gold crowns have a more noticeable appearance than those made with ceramic materials that offer a natural color. Because of this, gold crowns are most often used at the back of the mouth where they are less likely to be seen. At Red Bank Smiles, Dr. Klayman works with patients to determine which crown options are best suited to their unique needs, so you'll receive a personalized solution tailored to your oral health concerns.
Protect Your Teeth
Now that you are aware of the many uses of gold dental crowns, contact us at Red Bank Smiles in Red Bank, New Jersey to schedule an appointment. We're conveniently located at 180 River Rd with office hours from 7:00 a.m. to 7:00 p.m. Monday through Thursday and by appointment on Friday and Saturday to accommodate your needs.